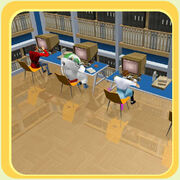 The 
Archives
 is a room built in the island base.
The Archives can only be made available after completing the Act of Infamy, Steal the Library Blueprints. This room is an area in which your minions may replenish their Smarts stat.
This is especially important to Science Minions, who use Smarts to consider new potential objects for research. However, not everything that can be built in this room is as inoculous as it first seems.